July 20, 2016 at 12:59 pm
#1360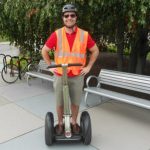 Jared Barbosa
Keymaster
@

jbarb
There are a lot of warning flags to look out for, especially when you're going to be working with them for a very long time:
When they need to do something, they don't follow through. What ever it is doesn't matter. When someone doesn't come to a meeting on time, take it as a sign of warning – Their top priority should be the company, and so they should put together anything that is needed for the company work.
Half of the time, they usually talk. People who are always talking doesn't listen. People who doesn't listen are inflexible generally. People who are not flexible can't pivot. You should get the idea.
Follow-up questions are not asked. When they're pitching a company, everyone should be asking, "What do you think?" or some other variation of that. A co-founder that shows that they're thinking about the business and the issues that you're going to run into down the road should then ask 15 follow-up questions. You don't want your co-founder to be asking the same questions to you all the time — but you are going to need them to be engaged enough to ask many questions.
They drop names. There are people out there who know everyone very well, and those are the people that is already rich and have founded their very own companies.
In a way that you can explain to others, your co-founder can't explain what they bring to the table. If the co-founder was the one who is in charge of sales, you must know how exactly they are planning on selling your products. When they're incapable of creating a plan that they're going to share to you, you are more likely going to have a problem later on. Plus, when you're out pitching the business, there will be people that are going to ask you to explain in detail those things, and you my friend might might not have your co-founder around to help you.
They irritate you, and you're going to be spending a lot of your time with this person. Being their friend must not concern you, but you are going to be able to get along with them or at least show them respect. If you prefer to manage them via text message than to pick up the phone to speak with them, you have a problem.
Most of all, this rules above should apply to yourself. There will be tons of successful people who don't listen, name drop, etc., but they tend not to keep or have co-founders. So if you're constantly name dropping, not letting anyone else speak, you don't follow through on things that you said you are going to do, and assume that you're always right and that you don't need to be asking questions, you're going to have a hard time finding a co-founder.